Taylor, Karl (2010) Thacka Beck Flood Alleviation Scheme, Penrith, Cumbria- Measured Building Survey of Culverts. Project Report. OA North. (Unpublished)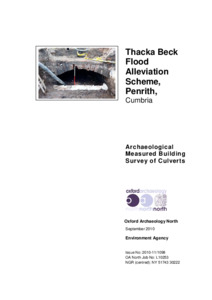 Preview
PDF




L10253_RevisedFullReport.pdf


Download (3MB) | Preview
Abstract
Thacka Beck flows through the town of Penrith, and for much of its course is culverted below the streets within a stone-lined culvert. As part of an on-going flood alleviation scheme, much of the culvert is due for replacement. As parts of it date back to at least the nineteenth century, Cumbria County Council Historic Environment Service (CCCHES) outlined recommendations that the existing stone-lined culverts be recorded in accordance with English Heritage guidelines (2006).
Sections of the Thacka Beck culvert follows a course below the eighteenth century Mansion House and associated listed walls, which were the subject of a separate survey carried out by Oxford Archaeology North in November and December 2009 (OA North 2010), An archaeological measured building recording survey was undertaken prior to their removal in advance of the culvert replacement works. The work on the culverts commenced in May 2010 following removal of the listed walls within the Mansion House area.
Thacka Beck is listed on the HER as a medieval earthwork, along the course of the waterway now running below the town. It is believed to have been first constructed as a leat in 1300 to take water to Penrith from the River Petteril due to the town's wells being so polluted (Bowen 2005). The watercourse was canalised by a Victorian culvert as it entered the town.
A measured building recording survey under watching brief conditions was carried out to establish the nature, extent and survival of the culverts identified for removal, and comprised an outline measured survey, together with brief descriptions of each section. The recording was limited to a photographic record, brief outline description and sketch section drawing.
Actions (login required)