Hodgkinson, Anna (2011) 3D Visualisation and Analysis of archaeological vector and raster data using open source geospatial software. Documentation. Oxford Archaeological Unit Ltd. (Unpublished)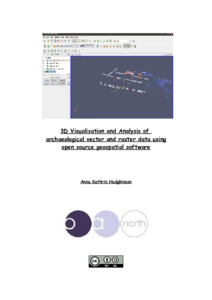 Preview
PDF




3D_Visualisation_and_Analysis_of_archaeological_data_analysis_using_open_source_GIS.pdf


Download (2MB) | Preview
Abstract
This document has been produced by Oxford Archaeology North as result of some research undertaken
into using exclusively open source geospatial software. By no means does this document claim to be
complete, or indeed, intended as a "final version"; it is very much a working document.
The methodologies captured include guides for the visualisation of 3D vector and raster data, some
information on the analysis of the same.
In addition to these methodologies, this guide contains sections on the problems encountered whilst
using the open source geospatial software, which is sometimes still very much under development, and
points towards alternative steps undertaken, which will hopefully be useful to the reader as well.
The main software used in this methodology is GRASS GIS, both the standalone, mainly GUI-based
version, but the GRASS plugin in Quantum GIS (QGIS) or that in SEXTANTE (gvSIG OADE) were also
frequently used. This manual assumes a basic knowledge of the principles of GRASS GIS and the
competency to set up a GRASS mapset and location. Should this knowledge not be present, further
information can be found in the GRASS documentation on the project website.
The visualisation tool used the most was Paraview. Each step described contains information on the
software used.
Actions (login required)